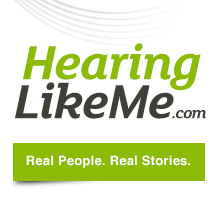 I have just become a PhonakhEARo, this means that I'll be part of a community of like-minded people.  The Phonak "hEARos" program supports a community of inspirational individuals who harness Phonak's passion to fighting the stigma attached to hearing loss, tearing down barriers for the hard of hearing and finding new and innovative ways to help everyone reconnect to the beauty of sound.
As someone who is both deaf and a Phonak hearing aid user, I'm very pleased to be part of something which is striving to make a very real difference to something which is part of everyday life for so many of us.
Hearing loss should not be a thing to be ashamed of. Wearing glasses has now become so normal, that in some quarters it's become a fashion statement.  Wearing hearing aids should be no different.
I love my hearing aids and wouldn't want to ever be without them, as they have made such a positive difference to my life.